Conduits
Mutation
Conduits are people who have gotten superpowers from either the Ray Sphere blast, or a different tragic event sometime in their lives. Conduits usually control one element of things (i.e. Cole MacGrath, the main character of the inFamous series, controls lighting.) So, here is the form for a conduit.
Codename: Neo
Gender: Male
Power: Vastly enhanced metabolism
Weapons and Attacks used:
Samurai Edge
Strength: Neo is able to lift up to seven tons of weight.
Endurance: Neo's body was densified enough to withstand gunfire (it does damage, but none that is long-term). Melee attacks deal extremely little damage.
Speed & Reflexes: Neo is able to dash at speeds mistakable for teleportation and evade gunfire. He sees at over 100 frames per second.
Thinking Speed: Neo is able to think at very high speeds. Combined with his natural intelligence, his IQ is estimated to be between 160 and 180.
Infection: After killing an NPC, Neo is able to insert a sharp appendage from the palm of his hand into their mouth, infecting them with the t-virus. This is just about never used more than once in a thread.
Alliances (select one of the groups shown below): Umbrella
Brief History: Previous to the Ray Sphere blast, Neo was a member of a SWAT unit, very skilled in several martial arts. Shortly previous to the blast, he had unbeknownst to him been infected with an unkown virus. The blast happened while he and his team had been conducting a raid in the Historic District.
Rather than killing him, the Ray Field energy mutated Neo's virus, fusing it directly and permanently into his cells as an organelle that makes his metabolism both faster and more efficient, though they are somewhat sensitive to extreme temperatures. Over a course of months, Neo laid unconscious as the virus stabilized within him, eventually producing a contagious virus later known as the t-, or Tyrant, virus.
After being dug up and brought to the hospital, Neo was diagnosed with an ominous "anomaly", but soon escaped for unknown reasons. Neo founded Umbrella, a company supposedly working for the U.S. military but actually mostly independent. He is working on a virus based on his own mutation that would "improve and unite" humanity.
Appearance: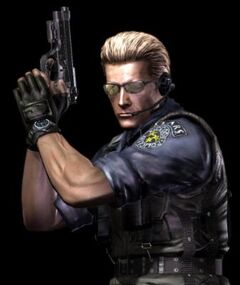 Karmic Rank: inFamous
Personality: Neo has a convoluted, astute personality. He is very knowledgeable, especially in the field of virology. He is, ever since his awakening, seemingly indifferent towards the survival of "other" humans, with the exception of his associate, Spectre. He appears to somewhat detest humans, saying they won't stop dividing and attacking each other over every little disagreement. Partially to mock this, he enjoys dividing his enemies and letting them fight each other,
even though he feels this is unnecessary.